British Summer Flowers 2022
Personalised Tags

(84mm x 44mm)

You can order these on their own if you want


Celebrating British Flowers Poster

(450mm x 320mm)

To order your promotional material use the form halfway down the page,
or simply call us on 01934 644451.
We're happy to help.
For some years now florists have been telling us that a week is not long enough to make the most of British grown flowers, that it needs a whole month. So that's why, while supporting British Flowers Week, championed by New Covent Garden Market, which runs from Sunday 12 June to Sunday 19 June in 2022, we have made our promotional material undated. With the Queen's Platinum Jubilee starting off June with a bang we suggest that you use our huge array of posters, flyers, bunting and tags throughout the whole month.

We have a complete collection of material to help you make the most of the publicity!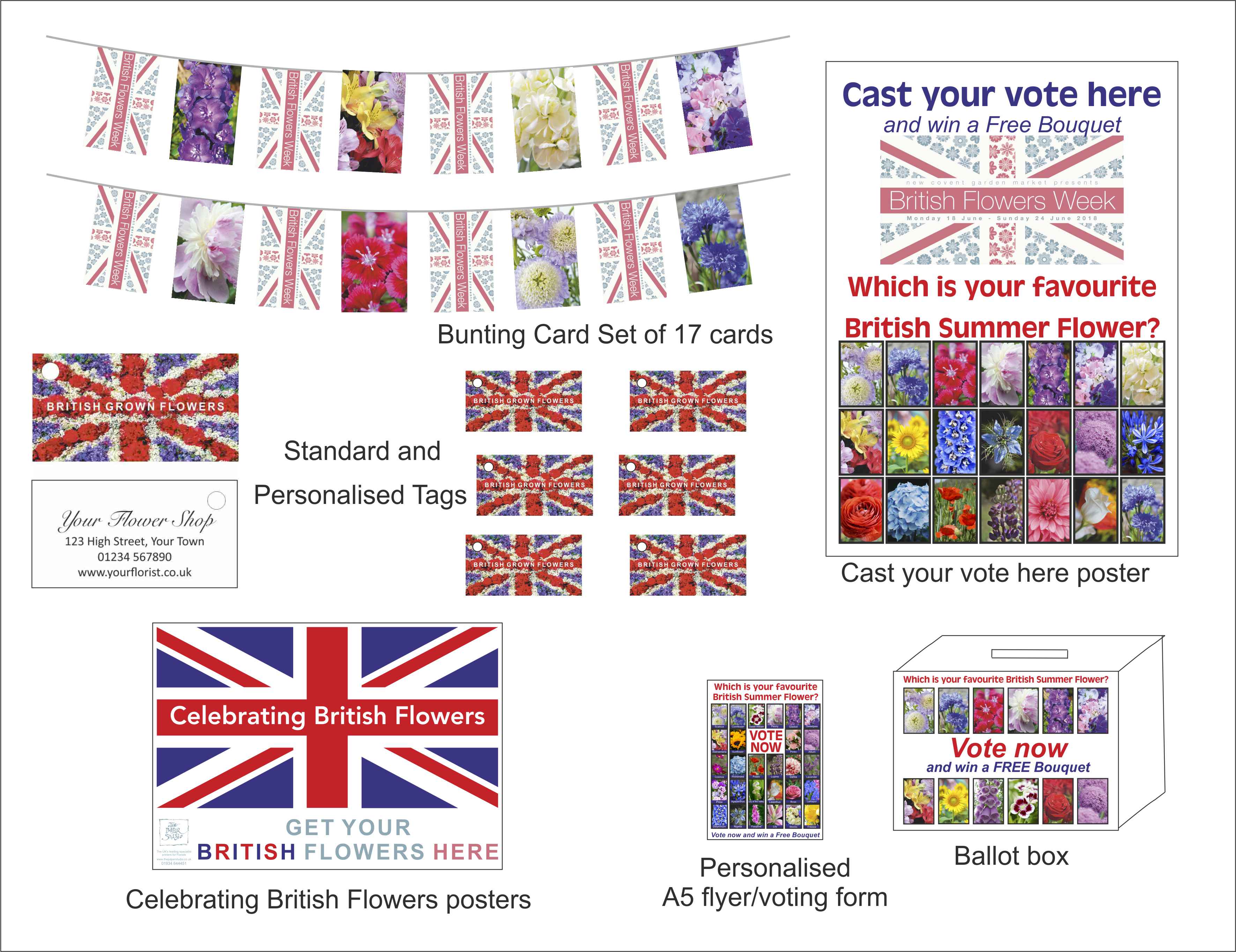 The items are shown in the correct proportions to each other to give you a better idea of their relative size.
Bigger photos of each item, so you can see more detail, are just down the page.

To make life simpler we have organised all of the promotional material into packs.
You can still get completely FREE of charge the 2 window posters and a set of tags.
If you want to make the most of the opportunity you would be better taking either the Studio Florist or Retail Florist packs to get the extra display material and personalised A5 flyers and personalised tags to promote your business. We've listed the details below: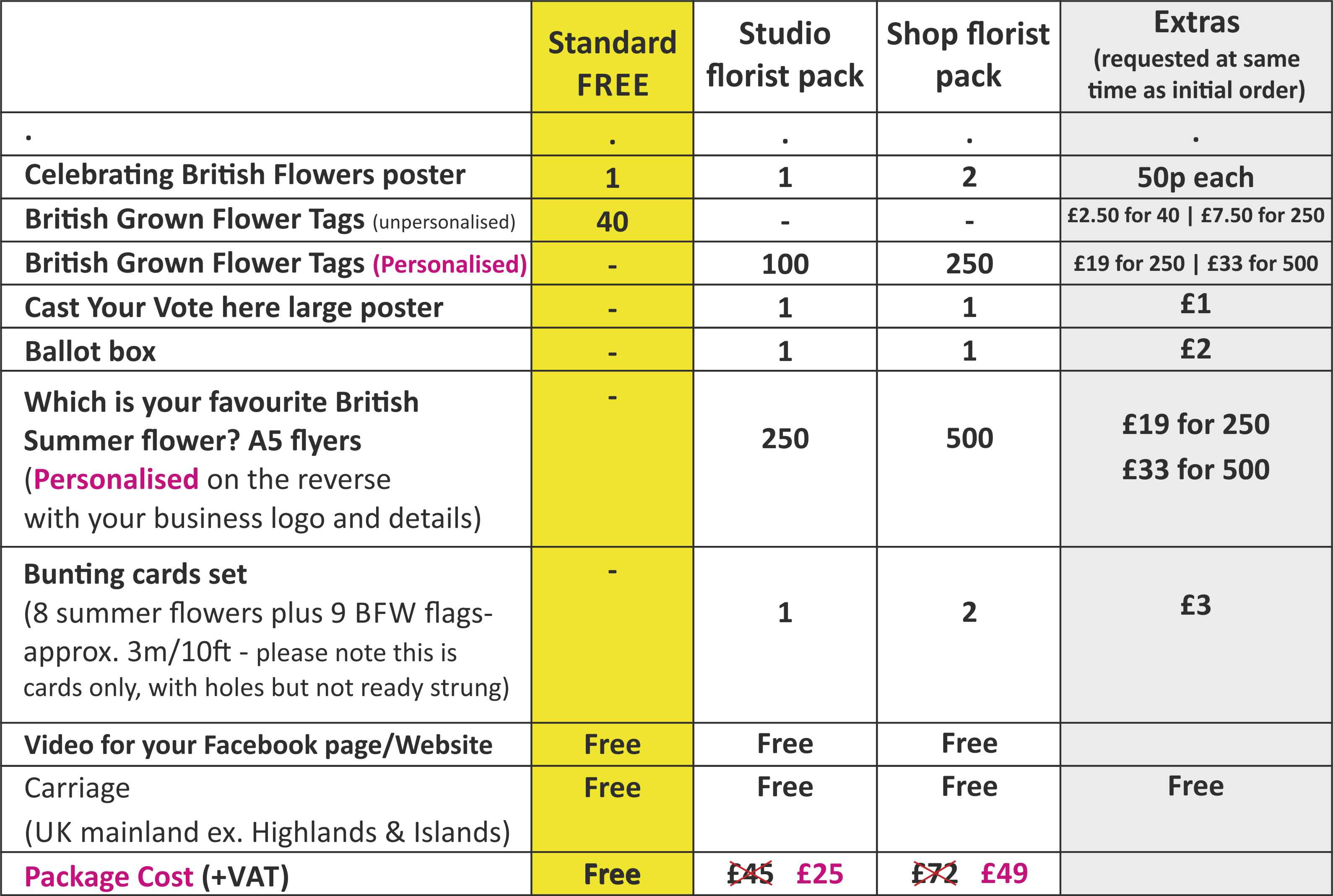 A5 flyer and tags personalised for your business


A5 Flyer/Voting form (front)

A5 Flyer/Voting form (back)

Personalised with YOUR business details

Tags (84mm x 44mm): standard or personalised on the back with your business details

Bunting Cards set of 8 British Summer Flower cards and 9 flags

The cards are postcard size (133mm x 85mm): with punched holes (but not strung)
| | |
| --- | --- |
| Huge Vote Here Poster (640mm x 450mm) | Ballot Box (304mm x 228mm x 228mm or 12" x 9" x 9") |
| | |
VIDEO: vote for your favourite British summer flower

(male presenter)


VIDEO: vote for your favourite British summer flower

(female presenter)

To get your FREE Celebrating British Flowers A3 posters and 40 unpersonalised tags just fill in your details in the form below and we'll get them off to you.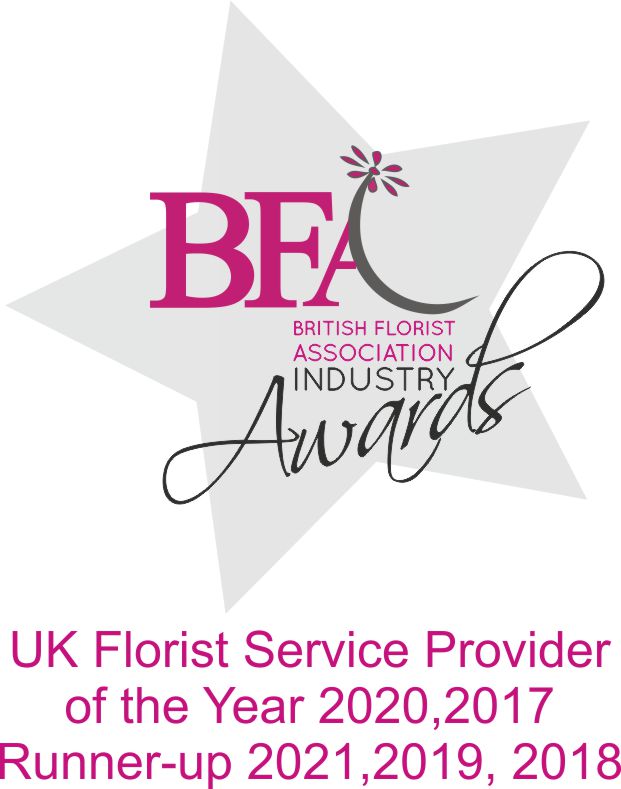 for more information
just Call 01934 644451
We're happy to help
We've also produced 2 special sets of cards specially
British Summer Flowers
folded card set

pack of 240 Folded cards size 68mm x 102mm
30 of each of 8 designs at £11.95 per pack,
or £17.95 per pack printed with your shop details
minimum of 4 packs of 240 (from across the range) for overprinting
British Flowers Set

pack of 100 Folded cards size 68mm x 102mm
25 of each of 4 designs at £6.90 per pack,
or £9.95 per pack printed with your shop details

Examples of Attractive Window Displays FREE
We also sponsored Helen Goodwin, the Visual Merchandising whiz from the BFA Vision conference to design and create a couple of example window displays for British Flowers Week. We made videos of what Helen created and how she went about it which you can see below the photographs here.
Wards Florists in York, with thanks to David Bough

Floral Elegance in Acomb, York with thanks to Sue Hunter
Window Display Videos

The first video shows Helen at Floral Elegance in Acomb, York talking about the principles of how to create a great display. The second video is a speeded up, timelapse video of her building the display at Wards in York.
As Helen was building the display during a working day there is quite a lot of background noise from customers in the second half of the first video - sorry!
Which are YOUR favourite summer flowers? And what would help you to stock and sell more British summer flowers?